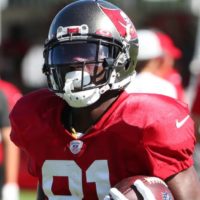 According to multiple reports, Tampa Bay receiver Antonio Brown was kicked out of the Buccaneers and Tennessee Titans joint practice on Thursday after he got into an altercation with Titans cornerback Chris Jackson. Brown was complaining that he was being held by Jackson before ripping his helmet off and throwing several punches before the two were separated. After taking some time to collect himself, Brown returned to practice.
Brown's altercation was just one of several to occur between the teams; there were reportedly four additional fights throughout practice. Buccaneers head coach Bruce Arians downplayed the multiple fights and just shook his head when asked about Brown, while Titans head coach Mike Vrabel said: "Our job is to perform football plays. Regardless of whether there are sidebars or altercations. I get it. It's hot out there. Guys are competing and trying to finish. Those things come up."
Brown re-signed with the Buccaneers in April after joining the team in October of last year. He played in eight regular-season games and caught 45 passes for 483 yards and four touchdowns. Brown also played in three postseason games, including the Super Bowl, and caught eight passes for 81 yards and one touchdown.
However, Brown's legal woes persist; at the start of 2021, he had to pay Britney Taylor $100,000 for allegedly violating a confidentiality agreement. Taylor sued Brown in 2019 for allegedly sexually assaulting her on multiple occasions—including rape in 2018, and Taylor claimed that Brown violated their confidentiality agreement by going on a tirade on social media directed at her.
Editorial credit: Steve Jacobson / Shutterstock.com